PERSONAS
My personas are the representation of a user, typically based off user research and incorporating user goals, needs, and interests.
BIO
Esteban is an international student from Peru, he lives in campus and enjoys playing soccer and exploring the city..
WANTS
Esteban wishes he can connect with another Peruvians that share his interests, like playing soccer.
NEEDS
A way to connect with another Latino students
Esteban's Story
Is Sunday morning and Esteban was invited to play soccer at Garfield Square in Mission district. Is his first time there and he notices how nice the venue is and stays empty most of the time.
He asked about the reservation of the field and learned the process is very simple, so he decided to organize a pick up game with his fellow students at the AAU in a couple of weeks.
He went online and posted the event in the event calendar of viveartu.com. Another great way to build community with the hispanic students around the passion for futbol!!.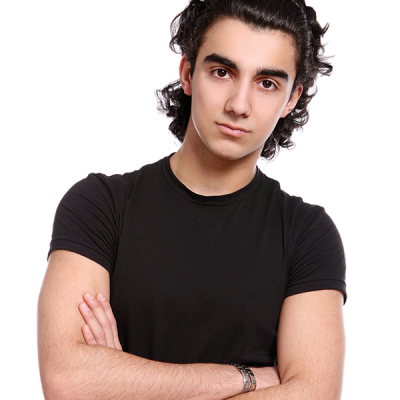 TASK FLOW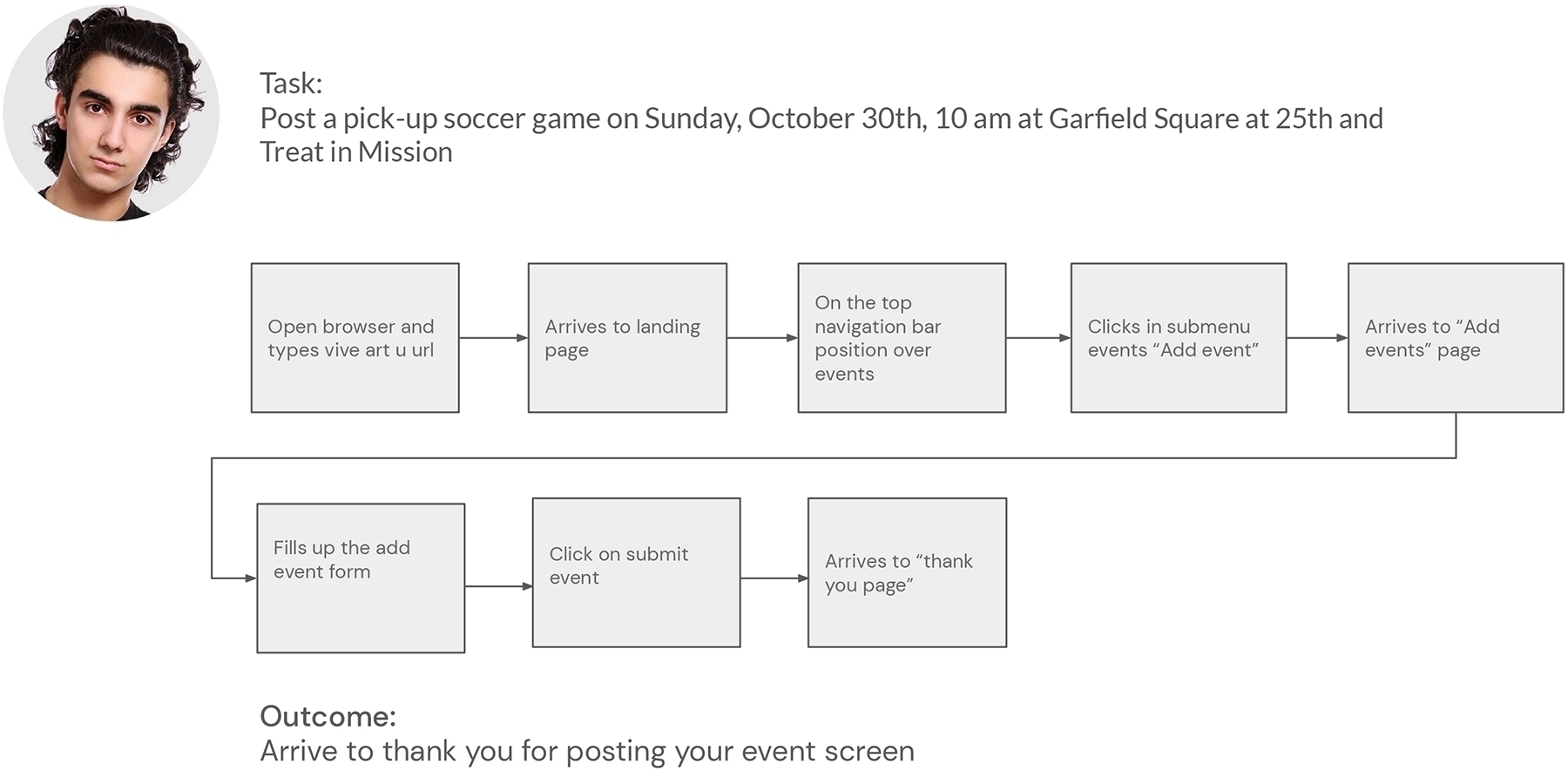 BIO
Daniela is an international student from Colombia, she lives in Mountain View with her roommate and enjoys networking and cooking.
WANTS
Daniela would like to find a place where she can see all the extra curriculum activities, choose the ones she is interested and sync them with her google calendar.
NEEDS
Networking with Latino students and professionals in the area.
Daniela's Story
With just a couple of classes this last semester, Daniela has some extra time to check some of the amazing workshops the Academy of Art University offers.
She goes online and checks the calendar of events and finds an interesting workshop in a couple of weeks, Behind the laces: an introduction to footwear design.
Daniela, gets more information about the event and RSVP thru the viveArtU.com event page.
She is excited to learn about something outside her field ofstudy and to meet new people.
TASK FLOW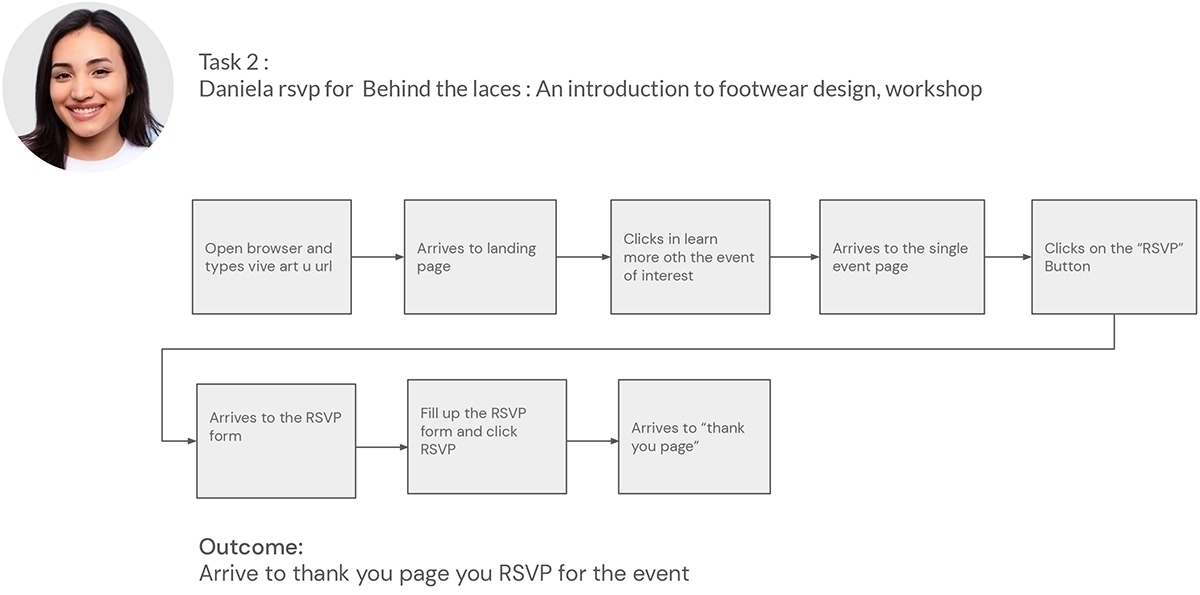 BIO
Fabian is a second generation Latino and the first in attending to college in his family. He loves helping people, volunteering and video games.
WANTS
Fabian wants to fin a place where he can offer his help to other Latino students with their challenges in their school assignments.
NEEDS
Networking with Latino students and professionals in the area.
Antonio's Story
Wednesday evening and Fabian, as an avid supporter of vive art U, decided to buy a logo t-shirt.
Goes to viveartu.com and buys a red logo t-shirt size Large, to promote the portal and to use it as a conversation started with his classmates.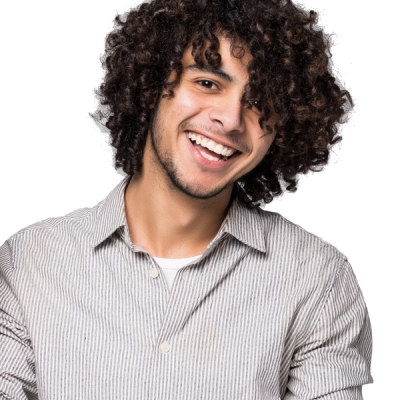 TASK FLOW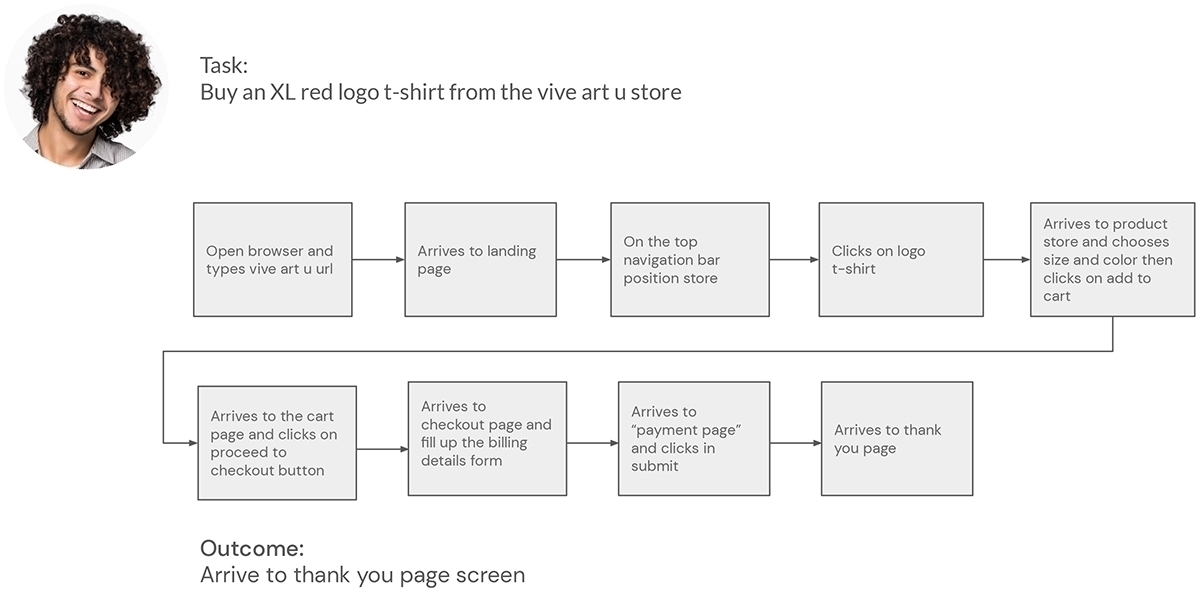 INFORMATION ARCHITECTURE